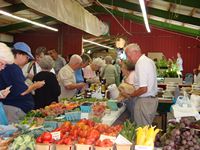 The Carroll County Farmer's Market is located at the:
Carroll County Agriculture Center
700 Agriculture Dr.
Westminster, MD 21157
Market is held Saturdays only (rain or shine in 4 enclosed buildings).
WE HAVE LOCAL SWEET CORN and TOMATOES!
Summer vegetables are here: onions, lettuce, kale, broccoli, cucumbers, cauliflower, green onions, radishes, sweet cherries, spinach, swiss chard, cabbage, beets, cut flowers, garden plants, blueberries, canteloupes, sweet corn, tomatoes, and bedding plants.
This weeks demonstration will be:
Best of Summer - 8:00am - 1:00pm
July 29th and Aug. 5th the Farmer's Market will be located at the bottom of the hill, at the end of the new Ag. Center driveway under tents during the 4-H Fair.
(Enter to win a tail gating basket full of products and coupons from our vendors! Drawing is on Aug. 26th.
Congratulations Linda Martinak on winning the Father's Day basket!
Baseball Tickets were provided by Point Breeze Credit Union.
(Details are on our Weekly Press Release Page)
Please see our Market Dates Page for the 2017 dates, special events, demonstrations and music. 2017 vendor application and letter now available.
PleasePP PP P
Our food stands provide home baked goods, including cakes, pies, scones, cookies, breads, rolls andbiscotti. You will also find jams and jellies, honey, nuts, fresh eggs and more. Our plant vendors will have perennials, flowering shrubs, herb plants and lots of fresh garden bouquets. The Master Gardeners will also have a stand every week to help you with your gardening problems and answer your questions. The market also has lots of fresh garden bouquets.Each week will offer an assortment of handmade crafts. Items available include seasonal decorations, fabric crafts, jewelry, photography, painted wood crafts and more.We offer food and craft demonstrations each week. This week's demo is Card making and scrapbooking by Ami O'Hara.The cafeteria is open during market hours for breakfast and lunch. Pancakes and egg sandwiches are great for breakfast and don't miss out on a slice of homemade pie or cake.The Carroll County Farmers Market is located at:Carroll County Agriculture Center706 Agriculture Center Dr.Westminster, MD 21157 The Summer Market is open every Saturday through September 1st.Hours are 8:00am – 1:00pm.Parking and Admission are FREE.We are handicapped accessible.Busses are welcome.Follow the signs to "Ag Center".For more info call Anita at 410-848-7748 or check out our website atwww.carrollcountyfamersmarket.com  Please no dogs allowed inside buildings.
For more information contact:
Anita Bullock - (410)848-7748
In case of bad weather any changes will be posted right here on this page.

Facebook search: carroll county farmers market